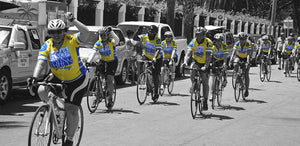 FOR IMMEDIATE RELEASE
Denver, CO – XX2i Optics, a popular eyewear solution for cyclists of all abilities, has partnered with the Ulman Cancer Fund to become the Official Sunglass of their annual "Key to Keys" Bicycle Ride. From April 9th to the 16th, UFC Key to Keys ambassadors ride from Baltimore, Maryland to Key West, Florida raising awareness about young adult cancer and the mission of the Ulman Cancer Fund.
The mission of the Ulman Cancer Fund (UCF) is to change lives by creating a community of support for young adults, and their loved ones, impacted by cancer. The Key to Keys ride ensures that UCF's valuable programs and services reach young adults across the country, so they no longer feel like they have to face cancer alone.
"XX2i is honored to be supporting such a wonderful organization," said Paul Craig, President of XX2i Optics. "When you see the number of young adults affected each year by cancer, it's really eye opening. We want to stand behind the mission of the Ulman Cancer Fund, and bring awareness to this terrible disease that affects so many people. Eye protection should be the last thing these riders worry about during their excursion, and that's why XX2i is outfitting each UCF team member with our award-winning glasses."
"I have always worn sunglasses made by another major brand until today," said Patti Jackson, member of the 2016 Key to Keys Team. "I recently received a pair of XX2i sunglasses and wore them during my bike ride. They are lightweight, stay in place and don't slide, nor do they apply to much pressure to my head on the tips. I love the different frame color options. I have now switched to wearing XX2i sunglasses, they rock!"
Using cycling as a platform, Key to Keys participants can share their individual connections to cancer and give support to others as they journey down the east coast of the United States. Along the way, the team will visit cancer centers and communities in order to connect young adults and their families with the UCF and its life changing mission. By the end of the ride, the money raised by participants is used to support vital UCF programs and services such as a Young Adult Patient Navigator at the Water Reed National Military Medical Center's John P. Murtha Cancer Center.
"With a significant number of active duty service members being in the 'young adult' age range of 18-39, having a Young Adult Patient Navigator at the John P. Murtha Cancer Center just made a lot of sense," said Meghan Fitzgibbons, LGSW, Young Adult Patient Navigator. "These patients need and deserve help navigating the medical system, just like those treated in civilian hospitals, but they also often need help navigating the military systems as well. Since the start of the young adult patient navigation program in May 2014, over 160 patients have been engaged and offered resources and services related to financial assistance, fertility preservation, practical and emotional support, and connections to other young adults with cancer."
To learn more about and stay updated with the Ulman Cancer Fund's
About XX2i Optics
XX2i Optics was created to offer unparalleled value and technology at an affordable price to athletes and weekend warriors alike. Since its launch, XX2i Optics products have received numerous awards including the Gear Institutes "Best Value" award and Outside Magazine's "Killer Value" award. XX2i polarized and polarized readers employ the latest polarized and rear surfacing technology, providing the same amazing quality seen on products three times their cost. Dual and Single Kits offer a multitude of frame and lens options to triathletes, cyclists and runners. To learn more go to www.XX2i.com
Media Contacts:       
Devin Johnson - djohnson@gorace.pro        
Riley Lantz – rlantz@gorace.pro