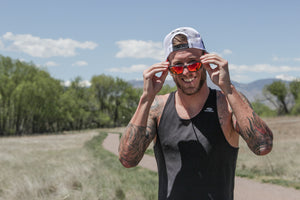 Written by pro triathlete AJ Baucco
Buying for a triathlete during the Holiday Season definitely isn't an easy task. It is especially hard if you aren't a triathlete yourself! Triathlon is one of the rare sports that requires a massive amount of gear. So what gear makes the perfect gift?
1. Sunglasses: They make the ideal gift for your favorite triathlete for two reasons: they are reasonably priced and triathletes can never have too many pairs! It is common for triathletes to have several pairs of sunglasses that they use for cycling or running, and several more pairs that they use casually. My personal favorite for running and cycling is the France 2 from XX2i. There are a bunch of color options to choose from, and if you aren't sure which lens color is best, go with the sunglass kit and you'll get three different options! If you think your triathlete already has too many pairs of performance sunglasses, I would recommend grabbing a pair of casual sunglasses like the Brazil 1 from XX2i.
2. Sports Nutrition: Just like sunglasses, you can give your triathlete the gift of nutrition without breaking the bank. Buying nutrition can be pretty confusing because there are a lot of different options out there. I recommend looking to INFINIT Nutrition for all of your sports nutrition needs. INFINIT specializes in completely customizable nutrition, but there are also plenty of options that will suit just about any triathlete's needs. I actually worked with INFINIT to create a blend that will work well for any triathlete. Check it out!
3. Recovery Boots: This type of gift is definitely in another price range, but if you really want to get your triathlete an awesome gift, give them the gift of recovery! The best "bang for your buck" is going to be the NormaTec Pulse Recovery System. There are cheaper recovery boots on the market, but in this case, it is best to go with the most trusted brand. Recovery boots, like the Pulse System, are meant to be worn after training as a way to promote blood flow to the legs. The boots use compressed air to massage the limbs, mobilize fluid, and speed up recovery. Looking for a good deal on these? Use "TRS100" for $100 off the Pulse System. Purchase before Dec 31st, and you can also take advantage of their Holiday Sale which is an additional $100 off and free shipping!
4. Race Wheels: Now we are getting into the realm of very expensive, but if it is in the budget, every triathlete will be happy with the gift of speed. There are a lot of different race wheel manufactures out there, but most pale in comparison to ENVE. The best part about ENVE is that their race wheels are incredibly durable and are meant to be ridden in training and in racing. They do have a few different options when it comes to wheels, but the vast majority of triathletes are going to want the SES 7.8 Wheelset.
AJ Baucco is an established long course professional triathlete from Cleveland, Ohio. He founded AJ Baucco Coaching LLC, which currently coaches nearly 50 age group triathletes from all over the country. He also runs an age group triathlon team called the Baucco Squad. In 2014, AJ Baucco was crowned the first ever Kona Beer Mile Champion. He has since been given legendary status on the Big Island.
Contact - aj@ajbcoaching.com
Websites - www.baucco.com, www.ajbcoaching.com, www.bauccosquad.com
Twitter - @irunshirtless
Instagram - @ajbaucco