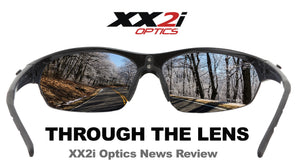 First news review of the year, and so much has already happened! We're excited to have you here to get caught up on our athletes, products, and everything else that's been going on.
FAVORITE THIS MONTH
The Australia1 is one of our most versatile sunglasses yet, with removeable temple arms that can be swapped for a flexible strap for a goggle-like fit during high intensity sports like spartan racing, cross country skiing, mountain biking, and motorsports (including but not limited to tank driving, dune buggy racing, and looking fly). The removable padded insert (shown here) improves visibility in snowy conditions and keeps eyes protected from the elements. See what bloggers Amateur Athlete and DrRunner had to say about their Australia1's. (Photo Credit: Jordan Rosen Photography)
FROM ROCKING TO RACING
Ever wondered how AJ Baucco went from being a punk rocker to a professional triathlete? He tells the story of his unlikely introduction to the sport in his blog post for XX2i Optics. Look for more articles from AJ coming soon! Read the blog...
Get AJ's Custom Set-up:
 AERIAL SKIER AND WORLD RECORD HOLDER:
WINTER VINECKI
Winter Vinecki is chasing big air and big dreams this winter with the support of XX2i Optics. As a 2018 Winter Olympic hopeful and a member of the US Freestyle Ski team, Winter also holds the world record for being the youngest person to complete a 26.2 mile run (marathon) on all seven continents. Next on the World Cup circuit is the finals in Minsk, Belarus - go Winter!
XX2i OPTICS NAMED OFFICIAL SUNGLASS OF
USA WATER POLO
Competitors of every caliber and sport are drawn to quality eyewear, and member organization USA Water Polo is no exception. "We're thrilled to have XX2i Optics as a sponsor and as our official sunglass," said Marty Samuels, Chief Operating Officer of USA Water Polo. "Knowing we have a great brand to work with, and that we're able to offer incredible sport and casual eyewear to our members is phenomenal."
DRESS FOR RUNNING SUCCESS 
Pro runner Natasha LeBeaud Anzures recently joined the RadRabbitPro Team, so we partnered with running apparel company Rabbit to bring you a blog post on the perfect running outfit. Everything you need to get those miles in, and look good doing it. Read more...
BRO CORNER: JOURNEY RACING
From pros to weekend warriors, our mission at XX2i Optics is to outfit athletes with affordable, reliable, and high-quality eyewear. Each month we will showcase one of our "BRO" athletes or teams doing amazing things on and off the race course. 
Journey Racing produces multi-sport endurance events throughout the Rocky Mountain region, while fostering a large team of elite racers to compete on the national and international stages of the sport.
In different combinations of roster, the team has seen podium finishes at several expeditionary length and championship races. Highlights in the last couple years include 2nd place finishes at the North American Adventure Racing Series Championships in both 2014 and 2016, an impressive 3rd place spot at the last edition of PRIMAL QUEST in Tahoe 2015, and multiple squads placing 2nd, 3rd, and 4th at the inaugural NOMAD 48HR.
 "Because of the extreme nature of adventure racing, each race used to be a funeral for another pair or two of glasses. Now with XX2i, since the lenses are replaceable and the frames are guaranteed, not to mention that they are tough and hold up, the team has been enjoying a rarity in the sport- getting to actually keep their favorite pair of sunnies!  The Journey Racing team is stoked to continue to sport XX2i Optics in the 2017 season!" - Chelsea Luttrall, team member & manager.
To learn more about the team, athletes, our schedule and to sign up for one of their events, please visit www.myjourneyracing.com
(Photo Courtesy of Journey Racing)
MUST HAVE IT NOW
Satisfy your immediate need for perfect pair of sunglasses when you shop our Instagram. See it, gotta have it, get it.
That's all for now. We'll see you next time!
 A backcountry skier takes on the elements of Jackson Hole, WY in the USA1. Photo Credit: Jordan Rosen Photography