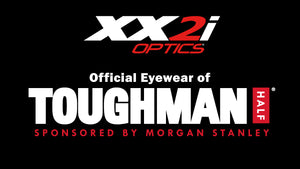 XX2i Optics, makers of award winning affordable performance polarized and specialty eyewear, is proud to be the 2018 Official Eyewear for the TOUGHMAN Triathlon Race Series. TOUGHMAN Triathlon is a North America-based independent race series, offering  long course distance races for triathletes in Wisconsin, Utah, Minnesota, South Carolina, Tennessee, and Puerto Rico. The championship race takes place in Stony Point, New York, in September. TOUGHMAN also features international races in Brazil, Argentina, and Chile.
"We're proud to be partners with a stand out race series like TOUGHMAN," said Jay Weber, Sports Marketing Manager for XX2i Optics. "These are awesome, grassroots races that get people excited about the sport and put racers on some of the best courses out there. It makes sense for XX2i Optics, an unpretentious quality value brand, to be partners with an unpretentious race series like TOUGHMAN."
Overall winners in the TOUGHMAN races leading up to the championship will win a Rudy Project Rush road helmet and a pair of XX2i Optics performance sunglasses. XX2i Optics is best known for winning Outside Magazine's "Killer Value" Award when it debuted in 2012, and rising swiftly through the ranks of known sunglass brands. According to a USA Triathlon survey conducted last fall, XX2i Optics is now the #3 brand of sunglasses that athletes intend to buy over the next 12 months, and is ranked #5 out of over 20 brands in overall satisfaction. 2018 participants of the TOUGHMAN race series who do not win their very own pair will be able to take advantage of exclusive discounts on XX2i Optics' ultralight performance frames, polarized readers, casual lifestyle sunglasses, and much more. Athletes that win their age group at the TOUGHMAN Championship Race on September 16, 2018, will also be the proud recipients of a Rudy Project Rush road helmet and a pair of premium performance sunglasses from XX2i Optics.
"Athletes that race in TOUGHMAN races and live the TOUGHMAN life expect the best of themselves and of their gear," said TOUGHMAN Race Director Richard Izzo. "We're proud to partner with XX2i Optics because they stand behind the product, and warranty it for life."
Other customer-forward policies from XX2i Optics include a lifetime warranty against scratches, nicks, and damage to lenses, and an industry leading lifetime warranty that protects even against dog chew damage. Explore more polarized eyewear at www.xx2ioptics.com.
About the TOUGHMAN Half Iron Triathlon Series
The TOUGHMAN Series currently consists of 15 races in the US and other parts of the world, with current events in Futrono, Chile; Paulinia, Brazil; San Pedro, Argentina; Africa, Chile; Quillon, Chile; Mayaguez, Puerto Rico; and stateside events in Wisconsin, Minnesota, Utah, South Carolina, and Tennessee. The Series Championship in Stony Point, New York, just 20 miles north of New York City, offers over $30,000 in age-group awards, a $4,950 cash purse (top 5) for qualifiers, a scenic bike course and 1,400 race support volunteers. For more on TOUGHMAN, please visit: www.toughmantri.com and www.toughkids.com