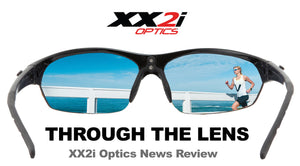 Here we are, finding ourselves almost at the end of the summer! Was yours as good as ours? Let us know!
XX2i Optics Becomes the Official Eyewear of
TOUGHMAN Triathlon Series
Race in the toughest triathlon series in the world and you could win a pair of XX2i Optics sunglasses! Find the full race schedule and details online at toughmantri.com. Read more about our support for this awesome race series here.
COVER GIRL CONVERT
Maria was featured on the front page of USA Triathlon Magazine's Summer Edition last year, with her game face on. After the shoot, she investigated more, and found out that as the Official Value Eyewear of USA Triathlon, XX2i Optics was a brand that drew her in. Follow her on Instagram to see where her adventures take her as our newest brand ambassador, @trioutdoorsy! 
JON KUEHLER FINISHES TOP 10 in LEADVILLE 100
Jon made a name for himself as the crazy guy who ran from the Westin Hotel at Denver International Airport to the Westin Hotel in Glenwood Springs, all because he found out that the completion of a trail system would allow him to do it without running on the interstate for the 200+ mile journey. Now, he's just finished the legendary Leadville 100 in 18 hours and 48 min to take 6th overall. A self-described 'mileage junkie', we can't wait to see what Jon does next. Follow him on Instagram @runwithjon.
BRUCKNER CHASE and AMERICAN SAMOA
Earlier in the year, Bruckner Chase made his annual trip to American Samoa. Driven by the belief that people need to be connected to the ocean, Chase goes to encourage local water safety training and to help grow the tourism economy. When asked why XX2i Optics was an ideal partner for Blue Journey, Bruckner responded, "In the harsh environment of the South Pacific protection yourself from the sun and salt water is critical for peak performance whether it's a race or a rescue.  XX2i Optics provides a second to none level of function and performance in polarized and non-polarized high definition eyewear so I will never miss anything on, in or near the water."  Read the full tale.
BERMUDA1: FEATURED IN WOMEN'S RUNNING
Called "the best sunglasses to wear while running," the Bermuda1 received mad props from the dedicated team over at Women's Running. Editor Bethany Mavis called them best investment, saying "these frames are durable and offer a clear view, especially in direct sunlight." Read the full review.
FOR KIDS WITH BRIGHT FUTURES
Eye health starts young - kids need sunnies just as much as adults. Fortunately at XX2i Optics, we've got the kiddos covered, with fully adjustable frames and smaller shades, featured in INVISION Magazine. Read the whole piece. 
AUSTRALIA1 - I LOVE BIG FRAMES AND I CANNOT LIE
Self-described shepard mom and runner Jen Skiba reviews the Australia1, and expands on why she's loving the maximum coverage. Read the review.
EVERYTHING CARBON FIBER
BibRave Pro Mark David Hizar, who has completed 23 FULL MARATHONS tested out the Hawaii1, featuring their TR-90 frame and carbon fiber temple arms. They were so light he had to keep checking they were on his face... read the review. (Photo: JessaKae Photography)
WUNDERKIND - KAIA SCHMID
This young ripper never ceases to amaze us. This season, Kaia's been racing Track Nationals, crits, and Road Nationals. She clinched a silver medal in the women's 15-18 keirin - a track cycling race where the competitors are paced for three laps behind a motorcycle, and that can reach speeds of up to 43 miles per hour. She then went on to beat the former crit national champion at Road Nationals, after a crash strewn race saw the first chase group battling it out to the finish line. Next she'll go on toe a cyclocross camp with Ellen Noble, to focus on Cyclocross National Championships in December. Go Kaia!
TO POLARIZE OR NOT TO POLARIZE?
Polarization on sunglasses can be a bit, well, polarizing. Some athletes swear by it, others don't want it at all - it can be complicated. We broke down when you would or wouldn't want to wear polarized lenses, in an ideal world. Read on...
 ON OUR SOCIAL MEDIA